Shrink from Operations
64% of all store shrink occurs as a result of a breakdown in or the absence of operational best practices.
Operational Shrink is profit loss caused during the conduct of normal operations and/or by employees not following proper or best practices. Responses by this year's survey participants clearly indicate that significant store shrink results from the habits, practices and behaviors of store personnel and failure to use and/or consistently implement store operations best practices.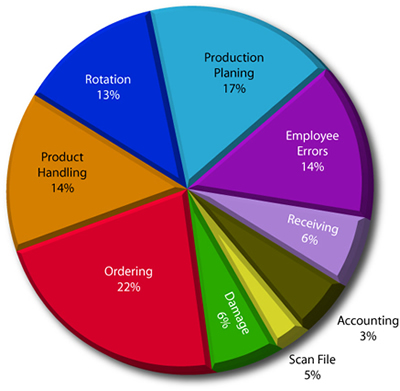 Shrink from operations is broken into nine categories:
Production Planning
Employee and Cashier Errors
Product Handling
Ordering Inefficiencies
Product Rotation

Damage
Accounting
Scan File Errors
Receiving
Companies that report lower than average shrink utilize cross-functional training of loss prevention, audit and store operations personnel to implement coordinated profit improvement through traditional loss prevention combined with operational best practices. Operational controls and processes form the foundation for all sales and profit optimization efforts. With effective and consistent implementation, 57% of operational shrink loss can be controlled yielding a potential $187,010 profit improvement opportunity in the average store. 
For additional questions regarding categories of shrink loss, operational best practices, or higher profit, call 602.448.8502 or email info@wheresmyshrink.com.